New Review!! Full Tilt (Full Tilt #1) by Emma Scott 5 Cranky Stars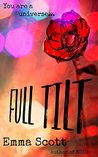 Full Tilt
by
Emma Scott
5 Cranky Stars

Everyone said you need to read this book it's amazing but will rip your heart out. I'm an emotion reader so I let it sit on my Kindle until I was in need of a good cry. So now I write this among of sea of Kleenex and my husband looking at me like a family member died. I'm not ok not even a little bit.
Jonah had such fantastic dreams and goals. One trip and one illness changed his life. Now he lives each day carefully planned. His only goal is to get his art instillation done before his time is up. He knows he's not prolonging his life by being so careful, but he tries. It's not until a drunken whirl of an angry chick in leather passed out in his limo that he thinks maybe he can try to live again.
Kasey is on the verge of stardom, but her demons are dragging her down. Night after night drunk and lost in random guys she feels this isn't for her. She wants more calm and she wants more acceptance from her parents. When she wakes up in a strange room she knows this is the shift in her universe. She's not sure how to love Jonah but she will try with what all she has and what time she has.
Ho. Lee. Heck!!! I'm gutted and broken. I knew it was coming but nothing could prepare me for it. I wish I could give it a million stars. Jonah has made the book boyfriend list. I can't wait to see more of Theo. He just intrigues me to no end. I admire Kasey and how she found herself. She tried so hard to be the one for Jonah and she rose above it all. Read it read it!! Have Kleenex and maybe some wine handy. Now excuse me I need to go blow my nose and eat my feelings.
View all my reviews