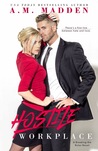 Hostile Workplace
by
A.M. Madden
My rating:
5 of 5 stars
***** 5 Cranky Stars *****
Sam Stanton is gorgeous, sexy, successful, the perfect catch.... but the wrong girl caught him.
Living a lie is hard work. On the surface, his life is perfect yet he's living with a ghost. The ghost of an ex he never got over.
All the could haves, should haves, and would haves run as constant loops through his mind, along with sexy daydreams in his office. He just can't get the one that got away out of his mind.
One thing Sam has always excelled at is work. He's good at what he does and lives to climb the corporate ladder. When a promotion comes up, a challenge is set. He's in competition with the one that got away.
Game On!
I actually read this book twice afraid that I missed something the first time through. The real problem was that I wasn't ready to say goodbye to these characters. AM Madden is a true story teller with a gift for creating sinfully sexy and lovable characters. This Cranky reviewer has been a fan since the Devil's Lair and with each new book I fangirl more.
I highly recommend this series and AM Madden to anyone looking for their next great read.
View all my reviews