New Review! Badlands (Savages #1) by Natalie Bennett 5 Cranky Stars
Savages
by
Natalie Bennett
My rating:
5 of 5 stars
5 Cranky Stars

Now that we've gotten THAT out of the way, let me give you a bit of a warning, for readers just picking up this series.
No, seriously.
This ENTIRE series is DARK. VIOLENT. CHAOTIC. EROTIC. VIOLENT. ANARCHISTIC. VIOLENT. DEPRAVED. IMMORAL. VIOLENT. Did I mention VIOLENT???
And I loved EVERY SINGLE PAGE OF IT!!!!!
If you are looking for a sexy good time, this ain't it, bruh. Just move on. You've been warned. Let's get into it.
This novel is set in a dystopian America. But any similarity to the Hunger Games or Divergent ends there. Trix are for kids....these baddies eat kids for lunch. Literally.
You are immediately immersed into a world of crazy religiosity, devil worship and acts so immoral and depraved that if I was married to the author I just might sleep with one eye open. Yet, there IS honor among thieves and you quickly learn that what you may believe to be a "good guy" and a "bad guy" is NOT quite what you think. Calista, our "heroine" is deeply, deeply damaged. So much so that she finds her soulmate in the devil incarnate. This relationship is the entire basis and catalyst for EVERYTHING that happens in this book......or so one would think.
What I LOVE about this entire series is the unexpected twists and turns in the plot. Just when I thought I knew what was going on a gigantic curveball is tossed at me and I'm broken into little pieces.
Oh, looking for the sexy scenes, are you? There are plenty but you may find you need to re-define exactly what you consider erotic and sexual. What turns our, by now, favorite characters on is beyond the pale....but.....I get it. I really do.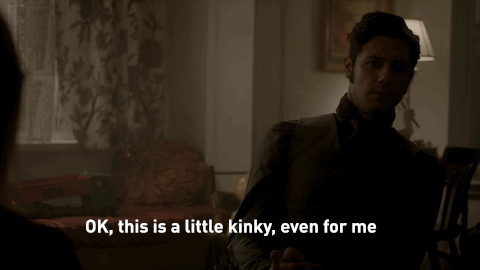 In a nutshell, this book is about self-discovery, revenge and satisfaction. But it is so much more than that. And neatly and succinctly leads you right to the next book: Deviants.
Just let that title sit with you for a minute.......
View all my reviews