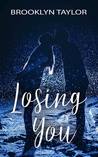 Losing You
by
Brooklyn Taylor
My rating:
4 of 5 stars

**** 4 Cranky Stars ****
This was such a sweet book. It has its sad moments as well.
Zoey was a cheerleader in high school who fell hard for her first love. I mean didn't we all think our first love was the greatest and most epic? Well just like Zoey we realize we were wrong. Evan was a snake. A young boy using his charms. While nursing her broken heart, she learns her mom is sick.
One fateful night on a bus, she meets Tristan, who also goes to her school. Tristan is a foster kid. He has done so much wrong because he feels he is just a bad person. He dates and I use that term loosely a string of easy girls. Melissa was one of those girls. She also plays a pivotal role in Zoey and Evans demise. Tristan immediately knows Zoey is different and the one for him.
This book isn't without its share of drama. At times I became frustrated because these characters were so immature. Then I had to remind myself I wasn't worldly and smart at 17.
It has a good message that we should never judge someone because we are all going through something. The story was good and was wrapped up nicely in a pretty epilogue bow. I'm happy for Zoey and Tristan.
View all my reviews