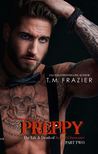 Preppy: The Life & Death of Samuel Clearwater, Part Two
by
T.M. Frazier
My rating:
5 of 5 stars
***** 5 Cranky Stars ****
Holy holy!!! After finishing part one I was on the edge of my seat for part two and it didn't disappoint. It was filled with so much pain and redemption but that's only the beginning.
Samuel Clearwater is back but he's not the Preppy we all know and fell in love with. He's trying to adjust to the outside world. Preppy has a secret and it's one that not even his friends know. The secret involves his angel.
Dre is trying to recover from her past life and drug abuse. She's out to make a better life for herself. She wants to put Logan Beach behind her and instead comes face to face with her dirty broken angel. Things she thought long since buried are back and she has a secret of her own as well.
This book is just the tip (Preppy joke) of the iceberg that is Prep and Dre. This is their struggle and their union. I shed a few tears at times. Samuel's breakdown nearly killed my heart.
This book makes a big path for part three and I can't wait to jump in.
View all my reviews