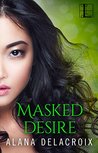 Masked Desire
by
Alana Delacroix
My rating:
4 of 5 stars
4 Cranky Stars

Masked Desire by Alana Delacroix is an interesting take on the fantasy realm. It has a wide mix of paranormal creatures, from Fey to vampires and even a unique inclusion of masquerada (a shape shifter who can take on the form of any face). It was a creative world that brought everything together in the shadow realms while humanity continued on naively in their minds.
Michaela (also known as Miaoling) is a very independent and headstrong female lead. She is a powerful masquerada, respected and sought after by all arcana species for her skills. I love her strength and determination to protect those she loves. She has a big heart, but she also has a dark past. One thing I love about main characters is the love they have for their family and friends, even if they lie to themselves and deny their true feelings. To me that safeguard and barrier is the ultimate show of how strong that character can love. Delacroix did a great job appealing to that aspect with Michaela with a great balance of give and take that allowed the character to develop from a hurt, lonely, and self-preserving female lead to a fully devoted, passionate, and selfless friend and lover to reveal her true self in time.
Cormac is your all powerful, sexy stud, and exiled fey. He is feared for his secrets that he keeps to himself. His only concern and focus is his home and his family. Cormac gets confronted with the stubborn and dominating Michaela when the two are stuck together solving a murder of a mutual coworker. Cormac struggles with his annoyance of Michaela through the good part of the book, until Michaela makes a naive mistake that takes an intriguing twist in the plot!
OOPS! I love a story that goes from annoyed and hated couples to an intense and passionate love that caught them unexpectedly. Masked Desire brought about that devotion between mated lovers in a suspenseful story about betrayal, loss, love, trust, acceptance and destiny.
Cons:
I can't say too much wrong with this book. There could be a little clean up with editing errors and a bit more flare in some areas that seemed somewhat monotone, but all in all it works. It's a bit chunky that disrupts the flow in some spots. Editing errors aside, the story is catchy and the plot is fascinating.
What the What?
One thing with this that made me giggle was the choice of kiss placement. Michaela and her distrust of others has her safeguarding herself from intimacy. She sets rules that are limiting when it comes to intimacy, a major one being no kissing on the lips. I found myself chuckling at this, because it left little places for Cormac to lay a big one on her. Instead of kissing the cheek, or even the tip of the nose or forehead, our sly sexy Fey chose the ear to place his kisses. I laughed on a couple occasions when he would go to kiss Michaela goodbye, lean in and plant it on her ear. Or if he came up behind her and brushed her hair aside, he placed a kiss on her ear. No sexy nibbling of the lobe or gentle bites on the neck or pecks on the cheek. I wonder if he has a thing for sexy ears… Watch out for those taters Cormac! LOL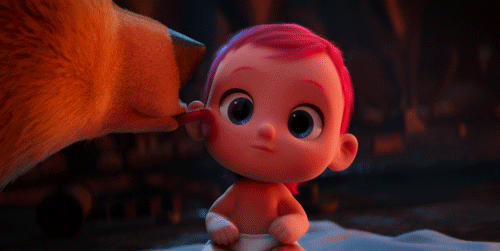 View all my reviews