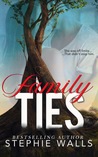 Family Ties
by
Stephie Walls
My rating:
5 of 5 stars
5 Cranky Stars

Families come in many shapes and sizes. The only thing defining a family is the heart. This story is filled with so much love and life it made my heart swell.
Jude and Portia are foster kids who land themselves in the same home. Both of their stories are so different yet both broke my heart just the same. Their foster parents are saints and created a home filled with love.
This story has me shaking my head at first but I quickly fell into Jude and Portia's love story. Life isn't always pretty but love can overcome everything. I highly recommend this story.
View all my reviews