Quarter Mile Hearts
by
Jenny Siegel
My rating:
5 of 5 stars
***** 5 Cranky Stars *****
Following an accident injuring her dad, twenty-four year old Leigh Storm returns home to the town she was once so desperate to escape.
It is only a matter of hours before she runs into Max 'Manwhore' Morgan. Dark eyed and dangerous to her heart, he is the very last person she wants to see. It might have been four years since she saw him last, but there's no denying the chemistry between them is as potent as ever. Max makes it clear he isn't about to let her run again, even if he is the one thing Leigh vowed to herself she would never date: a street racer.
After racing tore apart her own family and left a path of destruction in its wake, Leigh decided long ago that it is not the life she wants for herself. But when a wager gone wrong threatens her dad's livelihood, Leigh must go against everything she believes in.
This time there's more at stake on the quarter mile than just the family business—she's risking her heart as well.
Leigh Stone is one badass chick. She loves American Muscle cars, motorcycles and even knows how to fix them. The fact that she can pretty much out race any man, just makes her that much cooler.
After street racing basically left her family tattered and torn she vows never to date a racer. She moves away to live a mundane safe boring life. One phone call from the hospital has Leigh rushing back to her hometown to help her father.
Leigh was running from more than just racing. She was running from Max.
Through the years she has managed to avoid this sexy as hell racer but not this time. This time he's everywhere. He helps run her dad's shop, is friends with her friends and still holds the key to Leighs heart.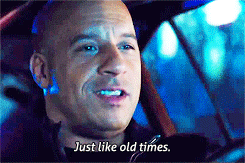 I love American muscle cars and the men who know how to treat them. This book brought me back to the days spent tooling in the garage on my brothers 68' Chevelle SS Malibu daydreaming about the next high school drag race.
This was a fun read. Leigh is sassy and sarcastic. Max is sexy and knows how to drive anything.... including Leigh. From the start I couldn't put this book down and look forward to reading more from this author.
View all my reviews