It
by
Stephen King
My rating:
5 of 5 stars
**** 5 Cranky Stars ****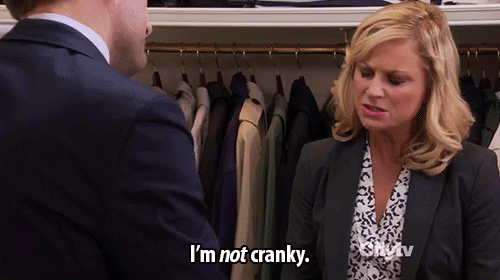 When I was a teenager, I went through a horror phase. My friends and I inhaled anything scary, getting together afterwards to compare our visceral reactions to certain works. It got competitive.
One of my friends had to sleep with the light on for a week. Another one wet her pants. We found out years later, another friend couldn't finish some books because she was too scared.
From a distance, I can now say the only works that truly stand out from that time period belong to Stephen King. My favourite then and now is It. Not just because King's points of view stem from bullied, miserable, outsider children (The Loser's Club) or he had the genius idea to make the personification of evil a hideous clown, but due to the author's understanding of human nature and how I bonded with his characters, willing them to triumph.
It is by no means a perfect book. The work is bloated in parts. There's filler that doesn't offer any particular relevance to the narrative, but it's the little things that King does, which makes this story live long in the memory.
October 1957, Derry, Maine: Bill Denbrough's brother, George, goes missing. Other children have disappeared and as events unfold, what is revealed is a horror that revisits in 27 year cycles.
A group of bullied kids, some with horrible home lives, some carrying trauma, and all excluded from their peers, find themselves at the epi-centre of the horror. They become the vanguard against evil, determined to vanquish it forever.
We follow two different timelines, which is, possibly, one of my favourite literary devices. The first, is of the group as children. The second, as adults. The two conjoin, but when I was out of the children's timeline, I longed to get back to it.
Although It is a horror, it's more than that. In the backdrop against supernatural horror, we also witness the every day horror of bullying, trauma, neglect, and people's micro aggressions toward the different or vulnerable. Why do people do it? Because they can.
This is where King is at his best. Locating the points of view with the Loser's Club was a stroke of genius. Outsiders can often see the limits of society and people, rather than those desperate to fit in. Watching these characters grow and dig deep is probably the reason It remains my favourite King work of all time.
Even today, years after I read King, even after my son grew up to the point where he could read It, the word 'float' still gives me chills. When we want to freak each other out, we just quote Pennywise.
Highly recommended and unforgettable.
View all my reviews